Bagua Martial Arts Classes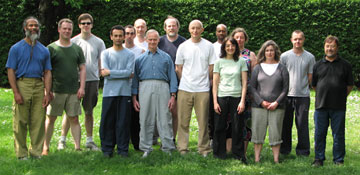 Weekly Classes in London
Classes are held all day Saturday every week at locations close to central London.
We periodically run induction/trial classes, when prospective students can come and try Yin Style Bagua by training with us for a day. These trial classes will focus on the martial arts syllabus of the system and students of all experience levels are welcome, including complete beginners. The classes are open to adults (18+ year olds) only and will teach the following:

Standing postures (isometric strengthening)
Body mechanics to generate power from the whole body and not rely on muscular strength
Circle Walking to improve coordination, suppleness, endurance, qi (chi) circulation and develop nimble footwork
Applications of the techniques learnt, with a focus on gaining advantage by use of body mechanics and evasive footwork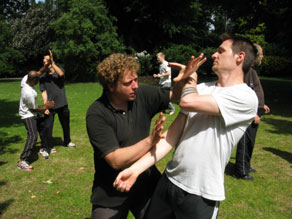 Next Free Trial Class
Date:
Sat, 14th Mar 2015 -

10:30am

to

5:30pm
Location:
Regent's Park

,

London

,

UK
Frequently asked questions
What is the nearest Tube station?
Regent's Park on Bakerloo line or Great Portland Street on Circle, Hammersmith & City and Metropolitan lines.
Check the Travel News page on the Transport for London website for latest details of line or station closures.
How do I find you in Regent's Park?
From Regent's Park Tube Station
If you are standing at the entrance to Regent's Park Tube Station with the road in front of you, turn left and then turn right at first set of traffic lights to cross Marylebone Road. Immediately in front of you is a short road called Park Square West at end of which is an entrance to the Park. Go through that entrance and continue along the straight path in front of you until just before you reach the far side of the Park, turn left before the gate and walk along the inside of the boundary hedge. We practise in the far corner of that section of the park under the large pine trees.
From Great Portland Street Tube Station
On exiting the station, with the dual carriageway in front of you, turn left and walk along Marylebone Road until you reach Regent's Park Tube Station and then follow directions as above.
How much do the classes cost?
Yin Style Bagua London a not-for-profit organisation, in that it is run specifically to preserve and disseminate this rare martial art, and as a result the regular open classes are free of charge for members. Membership of the group costs £50 per year, and this entitles you to attend all open classes for free** - some special classes may be separately priced.
** Please note that charges may be introduced in 2015, at which point the classes will no longer be free.
Are the classes free because you are a new school?
We have been teaching bagua classes since 1992 and they have always been free as we chose to share this martial art in the tradition of the Yin Style system rather than make a supplemental income. If you believe that a good martial arts class has to cost a lot of money to learn then by all means feel free to pay lots of money.
Is there car parking nearby?
Free parking is available on Albany Street (after pedestrian crossing) and on Robert Street (and streets adjoining Robert Street). These streets are to the east of the park and within a few minutes walk from the training location. Parking on the streets along the perimeter of the park is not free.
What should I wear?
Wear clothing and shoes that you would be comfortable training in. We train outdoors, so plan for the weather as it is easier to take a layer off than wishing you had brought one along. In winter months, gloves are highly advisable.
I still have questions
For more information please email info@bagua-zhang.info, use the form on the Contact page or call Ket Patel on 07581 355 123.